Joel M. Field III, Chair
Joel Field, CFP®, CLU®, LUTCF, the Founder of Field Financial Strategies, is also a financial advisor offering comprehensive financial planning and wealth management solutions through Eagle Strategies LLC specifically tailored for professionals with advanced degrees, business owners and executives around the country. He brings over 9 years of professional financial industry experience to The Family Center's Board.  Joel joined the Board in 2014 and since that time, has secured numerous corporate and foundation grants for The Family Center.  Most recently, Joel applied for and successfully secured another Community Impact Grant for The Family Center –this time to support teens recovering from trauma.  Joel was raised in Dublin, OH, and earned a B.S. in Business Administration and Finance from the University of Louisville and a Master of Divinity degree from Seminary at Cincinnati Christian University. Field Financial Strategies is not owned or operated by Eagle Strategies or its affiliates.
---
---
Tina Armstrong
Bio coming soon.
---
---
Afia Babar, MD
Bio coming soon.
---
Teresa Brady

Teresa Brady is the Managing Attorney and an Executive Director in the Legal Management Department at Morgan Stanley.  She was first introduced to The Family Center through Morgan Stanley's Strategy Challenge pro bono program, which allowed Teresa and her colleagues to work closely with the organization for several months.  The partnership was a success, as The Family Center team won the 2019 Strategy Challenge, and The Family Center was able to draw on the advice and resources provided by the Morgan Stanley team to build a Certified Community Behavioral Health Clinic (CCBHC).  Teresa is grateful for the opportunity to continue to serve The Family Center as a member of its Board of Directors .
Prior to joining Morgan Stanley, Teresa was a litigator at Weil, Gotshal & Manges LLP.  She is graduate of the School of Foreign Service at Georgetown University, and the University of Texas School of Law.
---
Cory DeForrest, Treasurer
Bio coming soon.
---
Kristopher Hopkins
Kristopher Hopkins is Managing Director, Head of Transportation and Logistics Investment Banking at BMO Capital Markets. In this role, he works with corporate executives and private equity firms advising on M&A and financing transactions. Before joining BMO Capital Markets, Kristopher worked at Houlihan Lokey, Sikorsky Aircraft Corp. (now part of Lockheed Martin), M.M. Dillon & Co. and Jefferies. Kristopher holds a B.A. in Government and Legal Studies from Bowdoin College.
---
---
Maggie Jiang
Maggie Jiang is currently SVP of Corporate Banking with Bank of China New York Branch, her responsibilities include origination for cross border and domestic M&A, Fund Finance, Public Finance, and Structured Finance. She was formerly senior Director at Credit Suisse, an expert in structured finance and primary debt capital market, where she helped facilitating public, private, or syndicated transactions for various types of institutional investors. Maggie covered large frequent issuers, opportunistic hedge funds, financial intermediaries, start-ups, and one-off special projects related to M&A. Her expertise spread through a wide range of spectrum: origination, structuring, risk assessment, funding, advisory, and internal credit approval, for $50+ billions of assets. Prior to Credit Suisse, Maggie held various positions at Barclays Capital, CitiGroup, etc., and spoke at several industry conferences.
---
---
---
---
Karin Levi
Karin Levi is a B2B and B2C digital marketer who partners with sales, product and marketing to cross-sell, up-sell and engage customers and prospects with compelling online experiences. Karin currently works at LinkedIn, and her career has always involved working in marketing for multi-million dollar brands. Her expertise is in delivering innovative solutions to drive sales and build a strong corporate brand through use of digital media.  Karin is excited to bring her unique skill set to The Family Center.
---
---
Carla Lisio
Carla joined The Family Center Board of Directors in 2020, and brings over 30 years' experience in behavioral health and substance use disorder treatment. She possesses extensive knowledge of all aspects of not-for-profit behavioral health practice, from clinical services to executive management. Her experience collaborating with the private sector, government agencies and community providers is greatly beneficial to The Family Center as our agency grows and expands to meet the evolving needs of vulnerable New Yorkers and their families.
---
Alex Miller
Alex Miller is a Director in the Senior Relationship Management team, at Barclays based in New York. In this position, he is responsible for covering hedge funds, asset managers, insurance companies and private equity firms. Alex joined Barclays in 2011, starting in the Consumer Retail investment banking coverage team and holds a B.S. in Business Enterprise Management from Wake Forest University.
---
Tony O'Callaghan
Tony O'Callaghan is a Senior Vice President at UBS Financial Services Inc. with over 40 years of experience as an investment professional. Prior to joining UBS in 2015, he was with Credit Suisse for 21 years and his focus continues to be providing wealth management solutions for ultra-high & high net worth individuals as well as corporations, senior corporate officers, and family offices. He has expertise in asset allocation, estate planning and fixed income.
Tony has been dedicated to the well-being of The Family Center children and youth since 2004, when he hosted the first-ever Central Park Picnic & Softball Game for client families. This annual picnic tradition lasted over a dozen years, all underwritten by Tony.  Each winter, Tony continues takes on the role of Santa at The Family Center Annual Holiday Party with help from his family of elves. The O'Callaghan Family was honored together at TFC's 2022 Spring Soiree with The Sustainer Award and Tony is excited to serve The Family Center on its Board.
---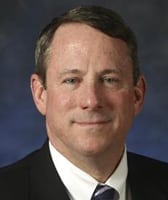 ---
Richard Osterweil
Renowned artist Richard Osterweil's work has been featured around the world and written about in such publications as The New Yorker, Vanity Fair, and The New York Times. He was the subject of a full-length documentary, Painting the Town, in 1992; it was shown in theaters around the country and on TV numerous times. A lifelong New Yorker, Richard feels a strong commitment to our community and the families who reside in it. This dedication is manifest in a decade long relationship with The Family Center, including mentoring a child in our Buddy Program.
---
Carolynne Perine Lee
Carolynne Perine-Lee joined The Family Center board of Directors in 2019. She and her family have been members of The Family Center for over a decade. She has served on the Consumer Advisory Committee since 2015. She and her partner Jamel have five children, three of whom are minors and still in their custody. Carolynne's family has benefited from our Bereavement Group, and her younger children have accessed our early childhood services and been paired with mentors. She and her family regularly participate in agency programming including dance classes, Only Make Believe and Project Sunshine. Carolynne and her family also receive services at The Irene LeeKong Health & Wellness Institute. In 2018, Carolynne spoke eloquently at The Family Center's 2nd Annual Harvest Ball about the services that her family received. Carolynne lives in Brooklyn and routinely promotes Family Center services at schools and other venues throughout the community.
---
---
Marika Pritchett-Casey, Vice Chair
Marika is a Managing Director and head of the Strategic Initiatives Group for Morgan Stanley Investment Management based in New York. She joined Morgan Stanley's Consulting Services Group as a Senior Associate in 2002 and held various roles in both Wealth Management and the Private Bank before joining Investment Management in 2012. Previously, Marika worked for KPMG Consulting, Chase Manhattan Bank, and Exponential Business Development Company. Marika received a B.A. in Communication from the University at Albany. She resides in Hoboken, New Jersey with her husband, Paul.
---
---
Bryan Roberts
A native to Brooklyn, Bryan earned the opportunity to play collegiate baseball at SUNY Binghamton. He performed well off the field as well, earning both a Bachelor's degree in Economics and an Honors degree in Spanish. Bryan works as a Director of Diversity Partnerships in New York, where he is focused on connecting jobseekers and employers together in an effort to diversify the workplace. Prior to his role, Bryan spent 11 years in the financial services industry as an Advisor and Financial Services executive, where he led a team of 36 and has garnered national recognition. He is also a Real Estate Investor and licensed Real Estate agent. His passion for Real Estate is long-standing, having spent many years supporting the family's business helping clients buy and sell property in New York City. In addition, he is enrolled in the Univ of North Carolina at Chapel Hill's executive MBA program with a focus in entrepreneurship and DEI leadership. Albeit, Diversity Equity, Inclusion or Real Estate, Bryan's passion is providing efficient solutions and strategies for all of his clients, in any situation. He is an avid gym goer, loves sports, enjoys family downtime and traveling.
---
---
Nandita Sahni
Nandita Sahni brings 20 years of marketing experience at technology companies creating a more accessible, innovative world to The Family Center. She cares deeply about working locally and thinking globally. Currently she leads Product Marketing at Via, an NYC-based software company focused on equity and accessibility for public transit riders around the world. Originally from Houston, Nandita has a BA from Tufts University and lives in Brooklyn, just a few doors down from The Family Center.
---
---
Ashley Sarokhan
Ashley is KeyBank's Senior Vice President and Commercial Sales Leader.  She is an experienced banker, relationship manager, and advisor. After a period on wall street, business school, and credit and leadership training, she focused her attention on the needs of middle market businesses; structuring optimal financing and treasury management solutions. As an advocate for her clients, Ashley is proud to create solutions and bring integrity, positivity, and accountability to banking. In addition to her primary job function and board position with The Family Center, Ashley is a steering committee member of the CFO Leadership Council and an Advisory Board Member for Rutgers NJ/NY Center for Employee Ownership. Ashley holds a Bachelor of Science in Finance and minors in International Business and Spanish from Pennsylvania State University, a Master of Business Administration from NYU Stern School of Business, and currently resides in Westfield, NJ.
---
---
---
Vikram Shankar
Vikram Shankar brings over 12 years of experience in the financial services industry to The Family Center's Board of Directors.  He currently is a Managing Director at Davidson Kempner Capital Management LP, a global institutional investment management firm, which he joined in 2010.  Prior to that, he was an associate at Morgan Stanley.  Vikram is a CFA charterholder and holds a B.S. in International Economics from Georgetown University.
---